Becamex IDC, VSIP and EIU cooperate with Singapore's leading Innovation partners
Within the official State visit of President Nguyen Xuan Phuc and his spouse, leading the high-ranking Delegation of Vietnam to Singapore from February 24 – 26, Becamex IDC, Sembcorp and VSIP have announced the cooperation to promote innovation, industry 4.0, sustainable development, new growth platforms for Vietnam.
The Vietnam-Singapore i4.0 Innovation Center (VSIIC) will be established in Eastern International University in partnership with Singapore Polytechnic International and Singapore-based Smart i4.0 Transformation Alliance (SiTA).
MOU ceremony to establish Vietnam Singapore Industry 4.0 Innovation Center between Becamex IDC, VSIP, EIU and SPI, SiTA from Singapore, witnessed by President Nguyen Xuan Phuc.
The center demonstrates commitment from Becamex, Vietnam Singapore Industrial Park and Eastern International University in accompanying enterprises in their industry 4.0 transformation. Via collaboration with leading Singaporean partners in the field, the center is envisioned to accelerate Vietnam's adoption of i4.0 technology and enhance its competitiveness as Asia's manufacturing hub. VSIIC will contribute significantly to the industrial manufacturing ecosystem by training future-ready workforce and enabling manufacturers' transformation with comprehensive activities from education & training, R&D, technology showcase, readiness assessment to consultancy services to support enterprises implement suitable i4.0 solutions that improve business productivity, operational efficiency, and management processes.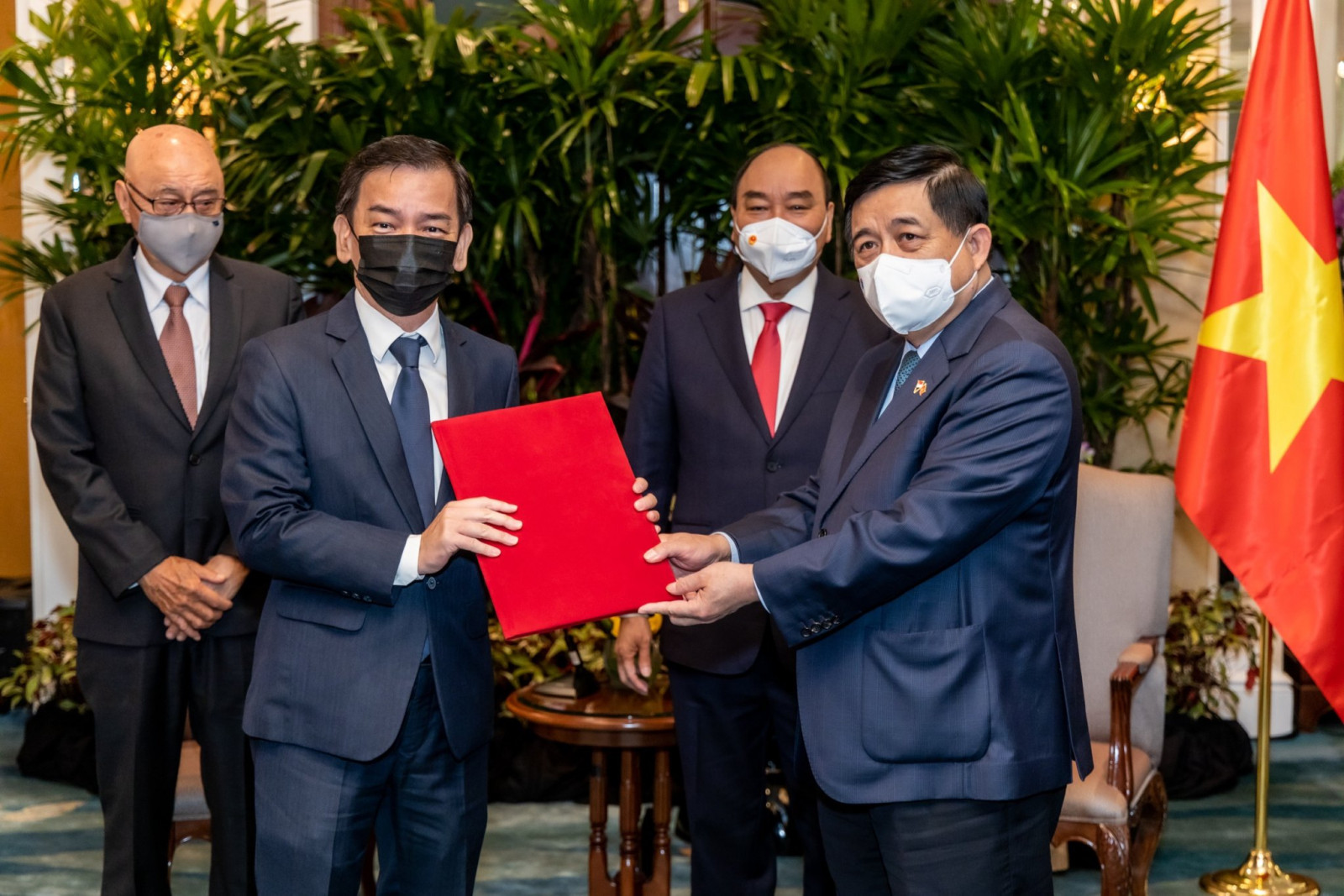 H.E President Nguyen Xuan Phuc witness H.E Mr Nguyen Chi Dung, Minister for Planning and Investment, hand over the investment license for Vietnam Singapore Industrial Park Binh Duong III (VSIP Binh Duong Park III). VSIP, JV between Becamex IDC and Sembcorp Development, the symbol of successful and long term partnership between the two countries.
Eastern International University and Sembcorp signed memorandum of cooperation to pursue a shared objective in driving sustainable solutions to support Vietnam's clean energy transition and strengthen the solar energy talent pool in Vietnam. The EIU-Sembcorp Centre for Sustainable Solutions aims to promote capability building amongst students and faculty through an authentic learning environment that is highly relevant to the solar sector. This collaboration will also see opportunities to jointly embark on industry-related research projects and develop new technologies for commercial implementation. Hence, it will ultimately raise awareness and industry adoption of sustainability innovation and technology.
Co-founded by Becamex and VSIP, Eastern International University is set to be the champion of the group's innovation, research & development, technology transfer, high quality workforce supply. These are essential foundations to drive productivity growth, sustainable development, and eventually socio-economic development for Binh Duong and Vietnam. These collaborations demonstrate directions and commitments to develop Science and Technology Industrial park for the future, Binh Duong Innovation region via attracting key innovation stakeholders, centers of excellence, technology companies; and promote academic-industry collaboration.
본점
9th Floor, WTC Tower, No 01 Hung Vuong street, Hoa Phu ward, Thu Dau Mot city, Binh Duong province, Vietnam
Copyright 2021 © BECAMEX IDC. All Rights Reserved.